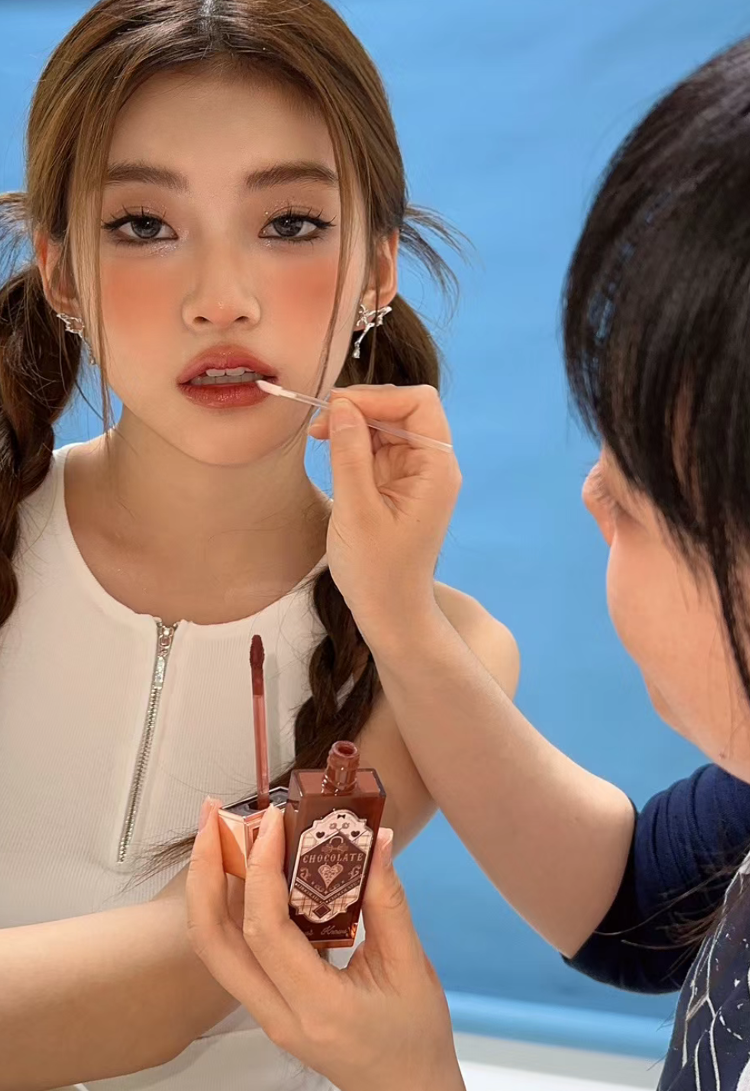 25 Sep

The Socializing make-up trend

As a social E-commerce platform, RED gathers a large number of youthful and highly educated beauty users, looking for the latest trends and tips and to share their own beauty experiences. But today, the socializing dimension has reached a new hight where make-up becomes a tool to meet and interact with other people either in the real life or through direct interactions online. Socializing makeup as a buzz trend nowadays is reflected in the following two main areas.
Online Transforming and Enhancing Makeup
Rather than practicing their makeup skills alone, young girls are now preferring to share their photos on RED and seek advice directly from other users, whether they are professional beauty bloggers or amateur makeup enthusiasts who can provide valuable advice and insights through their comments, share their makeup experiences, and support each other to become a more beautiful version of themselves.
Photos: RED Beauty Blogger @一颗橘砸, sharing her makeup makeover experience in before & after transformation
A popular trend on RED, known as #Follow your Make-up Adaption Advice(改妆我听劝), has amassed over 340 million views. In this trend, many users post "Before & After" photos of their makeup transformations. It's a testament to the sense of community and camaraderie among makeup lovers on RED.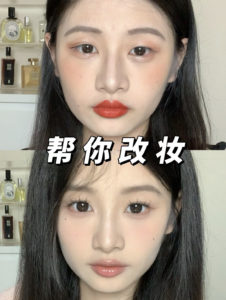 Photos: RED user @小方脸大曦子  found a more appropriate style for square-shaped face, while RED users @盐盐很甜 and @一只丁仔 post their comparison of before and after makeup change.
Street Makeup Relay Challenge
In China, first-tier cities such as Shanghai, Hangzhou and Chengdu are often filled with a large number of fashionistas, who have their own unique fashion tastes and beauty looks. Young beauty lovers experience a new type of beauty challenge : the street makeup.
Video: As the #MakeupRelayChallenge initiator, RED Beauty Blogger @呆瓜的瓜 challenges random passersby to relay through 99 different looks
The #Makeup Relay Challenge (化妆接力挑战), has garnered an impressive 12.3 million views on the social media platform RED. Chinese young girls walk down the street and ask chic strangers to do their make-up and make them their beauticians. The whole process is not done in one step, but different people are invited to participate in a make-up relay, each one contributing for one make-up step.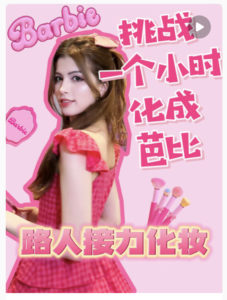 Photos: RED Beauty Bloggers Makeup Relay Challenge @贺呵呵 in front of Chengdu Gay Bar, @呆瓜的瓜 on the street of Shanghai; @等你夏客 challenging passers-by to relay Barbie look for 1h
This kind of challenge attracts a lot of passers-by to participate, and also harvests a high topic of conversation, and their make-up is not only highly accomplished, but also has unexpected rewards, and the social enthusiasm shown by interacting with strangers also attracts the attention of many young people with weaker social skills.
Contact us to learn more about the latest Beauty Trends in China