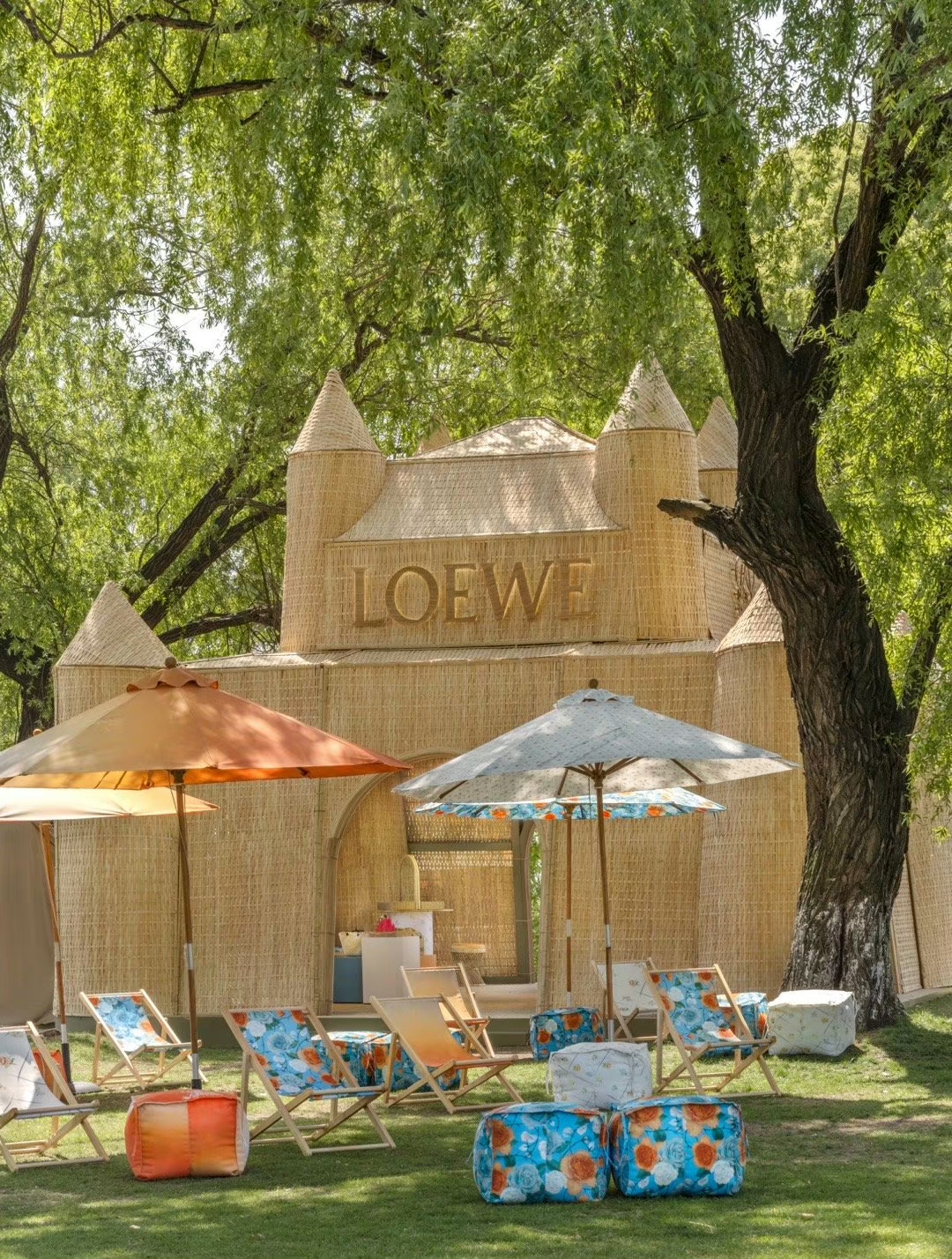 22 May

CHINESE MUSIC FESTIVALS ARE MAKING A COMEBACK AND LUXURY STARTS TO BE PART OF IT!

Best practice focus: Loewe @ Shanghai Strawberry Music Festival

During the 2023 May Day holiday, from 30th April to 2nd May, Loewe surprisingly popped up at Shanghai Strawberry Music Festival with an eye-catching bamboo weaving castle to showcase its 2023 summer collection Paula's Ibiza.

Photo: LOEWE Weibo official account, the Western style castle blend with Chinese bamboo weaving
Chinese music festivals were not the popular showing-up place for luxury brands. However, since the resuming of offline performances in February 2023, the music festival industry in China is experiencing explosive growth after a 3-year hiatus, attracting hundreds of thousands of people to gather. Loewe jumped on this opportunity to pop up at Shanghai Strawberry to amplify its presence in the Chinese market.
With this bamboo castle, LOEWE tried to resonate with the local culture through the cooperation with the Jingpo nationality at Songke Village, Yunnan Province, China. The castle façade applied new natural bamboo while the interior was designed with recycled bamboo which once was part of the housing material at Songke Village, adding a unique meaning of time and showing tribute to the traditional Chinese weaving craft. At the same time, a documentary, introducing the bamboo weaving crafts, kept rolling.
   
Photos: Wallpaper official WeChat account (L2) The Jingpo nationality use bamboo as major housing material, but the weaving craft is on the edge of disappearing. LOEWE Weibo official (R), the castle interior.
The castle was set up close to one of the singing stages, welcoming the visitors to rest in the relaxing zone, as well as providing them with interesting interactive experiences. After following the brand on WeChat, visitors could access multiple interesting and fun experiences: hair braids, auto-photo, free beverages, and ice cream. These delicate gifts with the LOEWE logo immediately became well-received onsite.
   
Photos: Loewe offers interesting interactive experience for visitors, Red user @Knott@匹诺曹儿@是李哈那呀
LOEWE also invited local music artists @吕彦良@DuckFightGoose to wear its new Summer collection for their stage show, presenting a fresh summer vibe.

Photo: LOEWE Weibo official account, @DuckFightGoose wearing the Loewe summer collection
The presence of luxury brands at Chinese music festivals is a rare sight, and the Loewe bamboo castle undoubtedly became the center of attention. With the growing sense of community and the desire for proximity, coupled with the proliferation of music festivals in China, we can expect brand collaborations with Chinese music festivals to intensify in the future. The Chinese Pulse invites luxury lifestyle and fashion brands to closely follow the Chinese music festivals and explore the opportunities it presents.
Contact us to learn more about the latest luxury trends in China