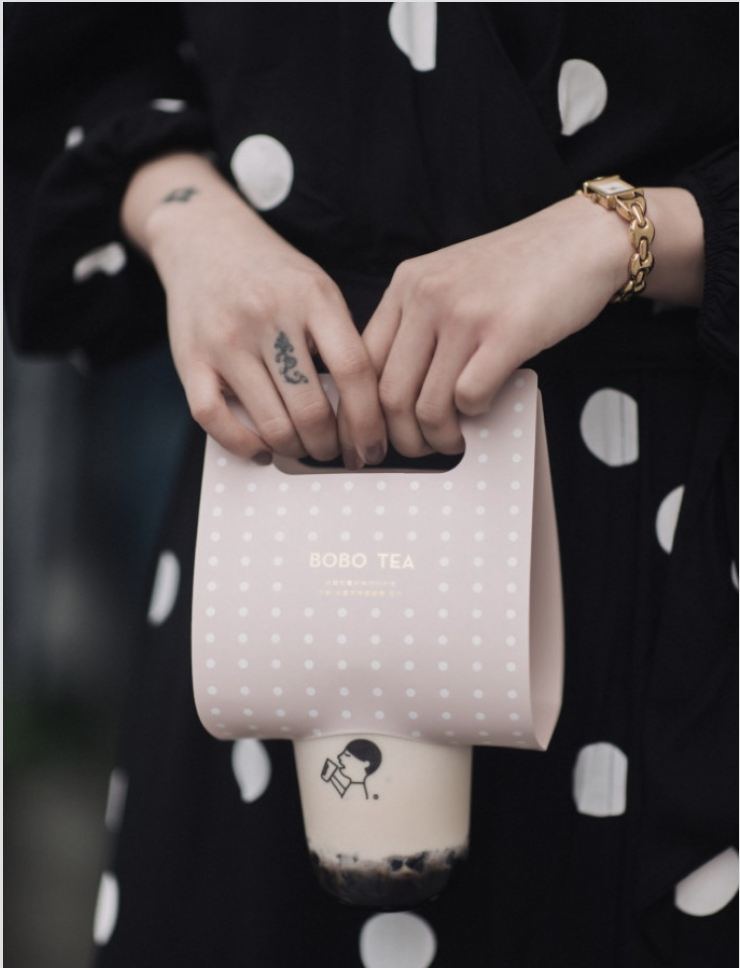 02 Jul

Heytea, the Chinese cool tea brand that speaks Fashion

In 2017, Heytea (喜茶), the new Chinese contemporary tea concept brand became a real buzz among Chinese millennials. Their creative, gorgeous and well designed beverages as well as their mingle area in their tea shop created a big hit on social medias. Indeed, Heytea shops are welcoming lots of visitors and people are willing to queue for several hours for a beautiful cup of tea. In order to keep catching the attention of the Chinese millennials, that could be quickly bored, Heytea began to position itself  as a "cute", "creative",  "fashionable" brand and keeps inventing new flavors, tea drink designs and brand activations inspired by the fashion trends among Chinese young generation.

1.Polka dots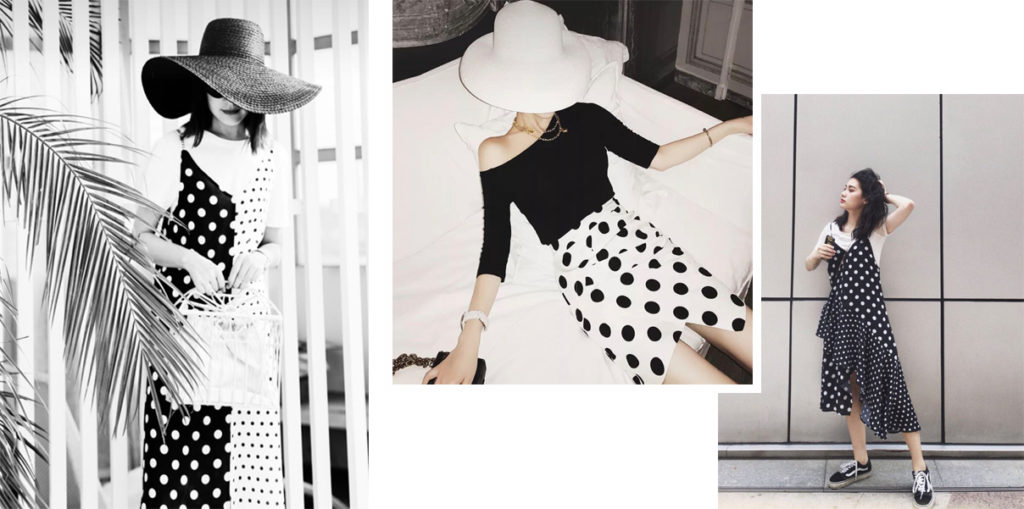 Polka dots fasion looks @Xiaohongshu
Polka dots has always been seen as an unmissable pattern piece for women wardrobes and has been fashionable at different periods of time, the polka trend appears to come back in the 2018 collections making it a strong aesthetic trend on Chinese social medias feeds, especially the social shopping community app:  Xiaohongshu. Heytea introduced its new bubble tea, called "Bobo tea",  the polka dots inspired the packaging as well as the tea-shop decoration and merchandising. To also match with the new fashion drink, the young generation of Chinese are wearing their favorite polka outfits together  with their "Bobo tea" creating the perfect total look. The fashion trend encourages a lot of imagination in order to create the perfect picture setting and composition to post on social medias showing the different styles, personalities and creativity of the consumers.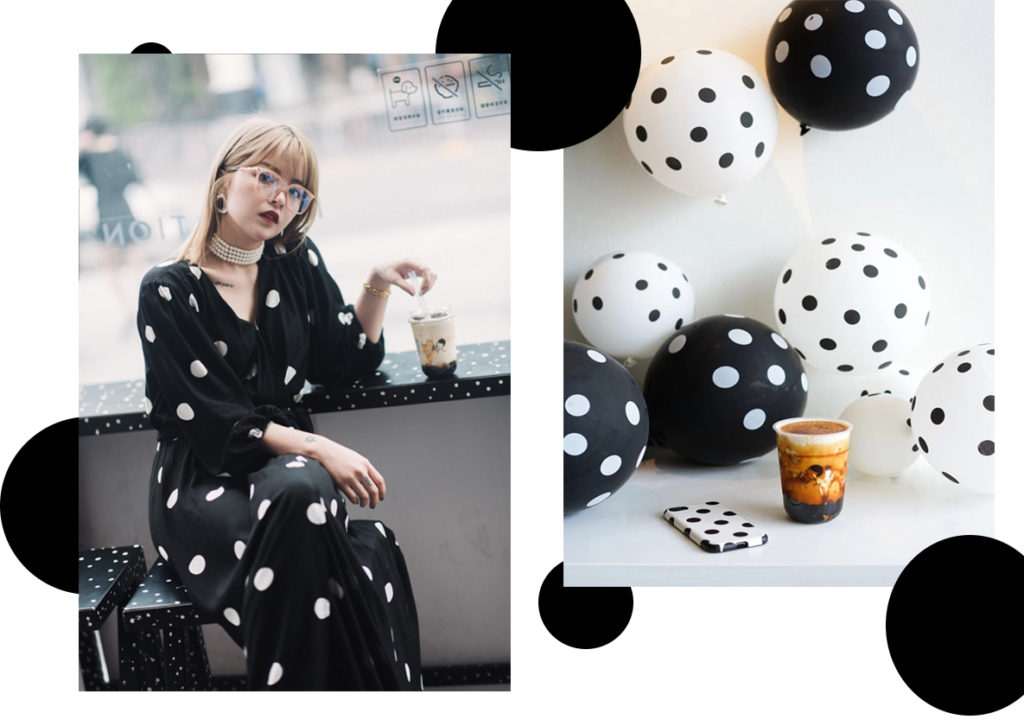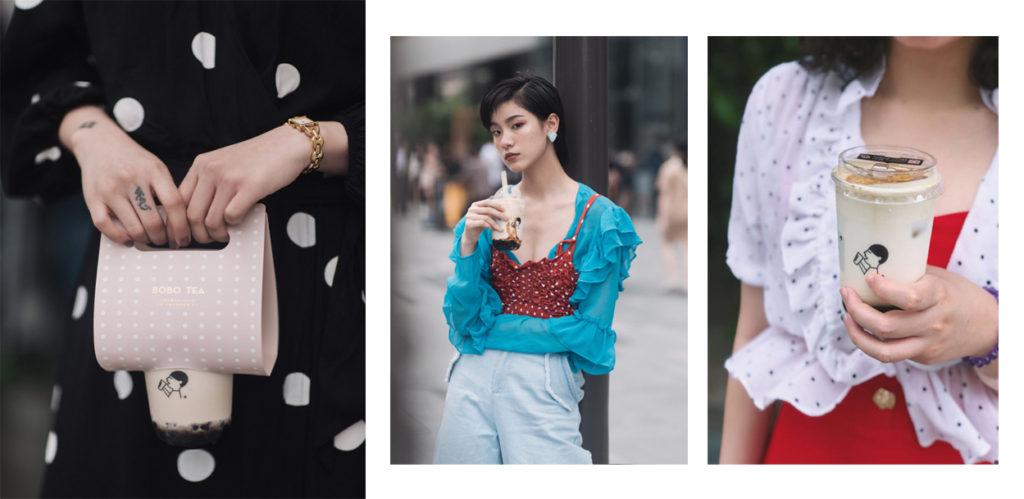 Different fashion looks with "BOBO TEA" @Heytea
2.Peach soda
In March 2018, the peach flavor Heytea beverage became the must have drink for trendy Chinese girls, indeed WeChat moments  were fed with pictures of the peach Heytea drink and peach color. The millennials couldn't resist the temptation of peachy pink color and sweet taste. The "delicious" color immediately turned to be the new trend for fashion especially for beauty and makeup brands. Heytea embraced well the peachy buzz and chose the peach fruit as their new "muse" for their summer fruit beverage. The fruit inspired series of artistic photos to feed social medias with orange shades.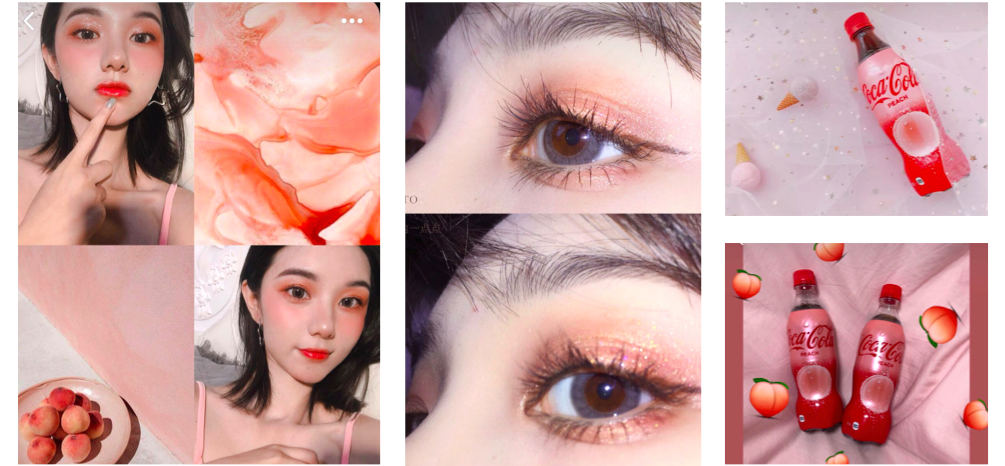 Peach eye look @Xiaohongshu
Peach fruit tea photo shooting and fashion look @Heytea
3. See-through accessories
Transparency is hype, see-through accessories are big hits like the Celine plastic bag and Heytea used this major trend to encourage discussion and engagement on Chinese social medias. Heytea organized a street campaign about "transparency", the aim was to inspire and encourage millennials to develop creative content, share their lifestyle, their attitude and personality. Heytea followers actively gave their ideas and comments on Weibo about each other posts creating a real community around the trend and the brand, allowing the participants the chance to win a see-through bag.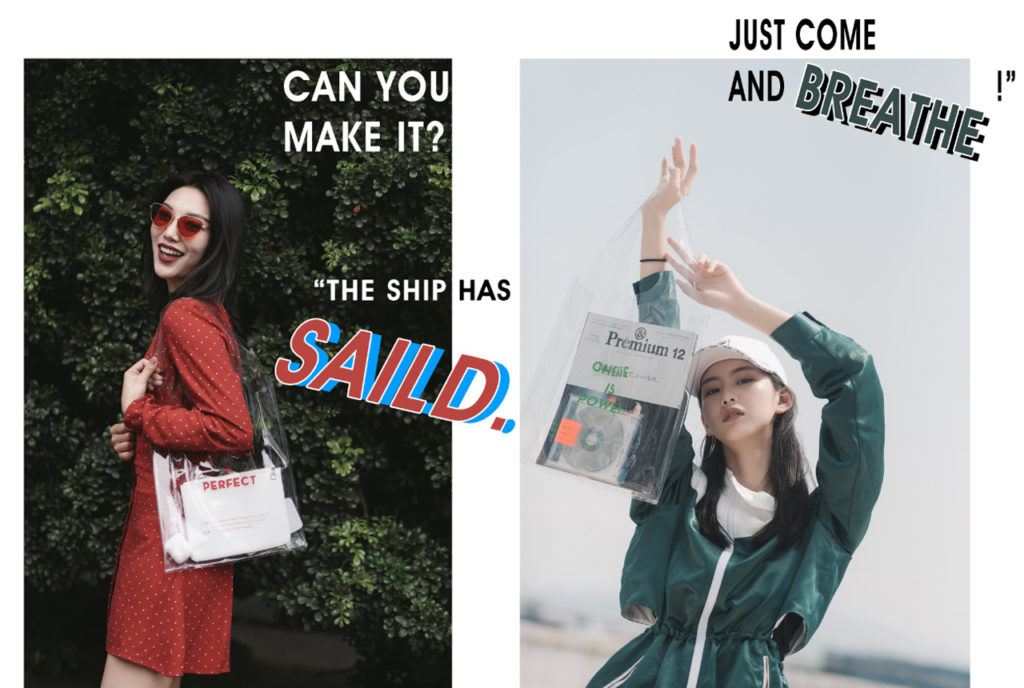 Street looks with Heytea transparency bag,photo by @Unilook