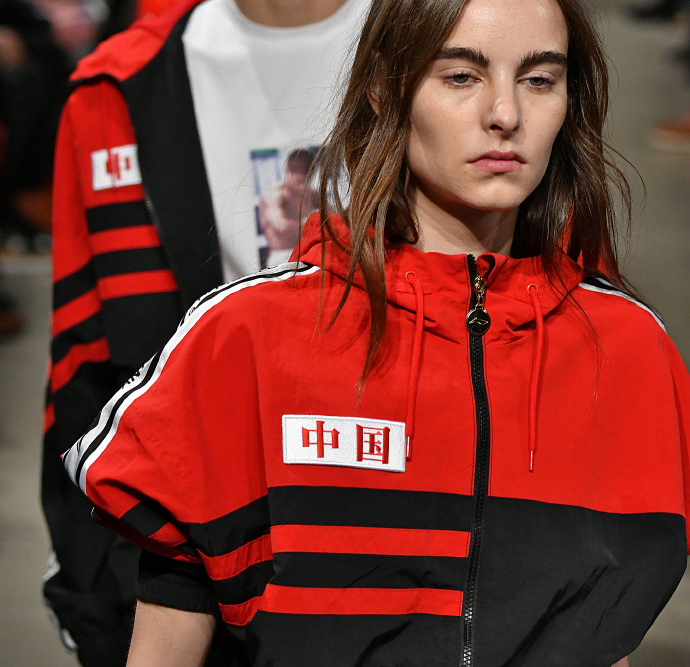 22 Feb

New York Fashion Week welcomes the first 'China Day' with the new retail from Tmall

On February 7,Tmall from Alibaba (a B2C e-commerce platform) held  a "China Day " during New York Fashion Week at Chelsea event space Skylight Modern. The Chinese e-commerce giant selected Chinese fashion brands, including  the leading fashion Chinese brand Peacebird, the local sportswear giant Li-Ning, the individual designer Chen Peng and the Hong Kong pop icon Edison Chen's streetwear brand CLOT.

In September 2017, Tmall had already announced its official partnership with New York Fashion Week and had cooperated in advance with three U.S. designer brands, including Opening Ceremony, Robert Geller and Grey Jason Wu selected to participate to the October  "See Now, Buy Now" Fashion Show.

From "Made in China" to "Chinese creation"
The inspiration from the Chinese Olympics uniform to tribute the 80 – 90's era for Li Ning
Li-Ning, a 28 years old leading national sports brand in China, was founded by Li Ning and is a former Chinese Olympic gymnast. The company insists on the quality, originality and creativity of the products. Li-Ning embraced the digital era and is encountering a fast development on Tmall. This phenomenon even let us forget that they once faced a crisis in 2012 because of their over expansion and their wrong brand positioning.
It shows that a sport brand can be fashionable even without collaborating with a designer or a celebrity. It aims to transform the image of "Made in China" to "Chinese creation"; young generation is proud of their own national brand that got translated into a strong willingness to purchase creative Chinese brand  such as Li Ning.
People using the hip-hop buzz word "打 call" with old image of Li-Ning to cheer up. Users on Weibo post the national flag and show their purchase order.
Back to the origin and culture revival
Peacebird and Li-Ning are t two successful examples for the evolution of Chinese fashion giants. The company developed several different brands in order to find the right position to cater the sophisticated Chinese customer profile of nowadays.
On the China Day, their collections both showed a strong sense of inspiration from the 90's, which is the decade that they started their business. Peacebird menswear chose to collaborate with Coca-Cola to restore the spirit and expression of the two brands and share that they were both founded in the 90's but with 100 years of difference. Positioning Peacebird menswear as one of the contemporary local brand and evolving at the taste of fashion today but Peacebird won't forget is original intension to stay accessible even their image is becoming younger and trendier.
Peacebird new looks with Coca-Cola
This NYFW, Li-Ning used Chinese symbolic "Taoism" philosophy as the basis of its inspiration, combining traditional handcrafts and modern designs. It mixes the Chinese culture with the future evolution of sports ; the cuts and the details of the patterns contain numerous Chinese elements to show the original sports culture with a creative perspective and attitude.
Li-Ning "Taoism" inspiration
"See Now, Buy Now" New retail
"China Day" runway shows were broadcasted on the Tmall and Taobao live stream, which allowed the consumers to immediately purchase some of the looks  at the same time that they were watching the show. A shopping page was especially designed for the NYFW's China Day on the apps.