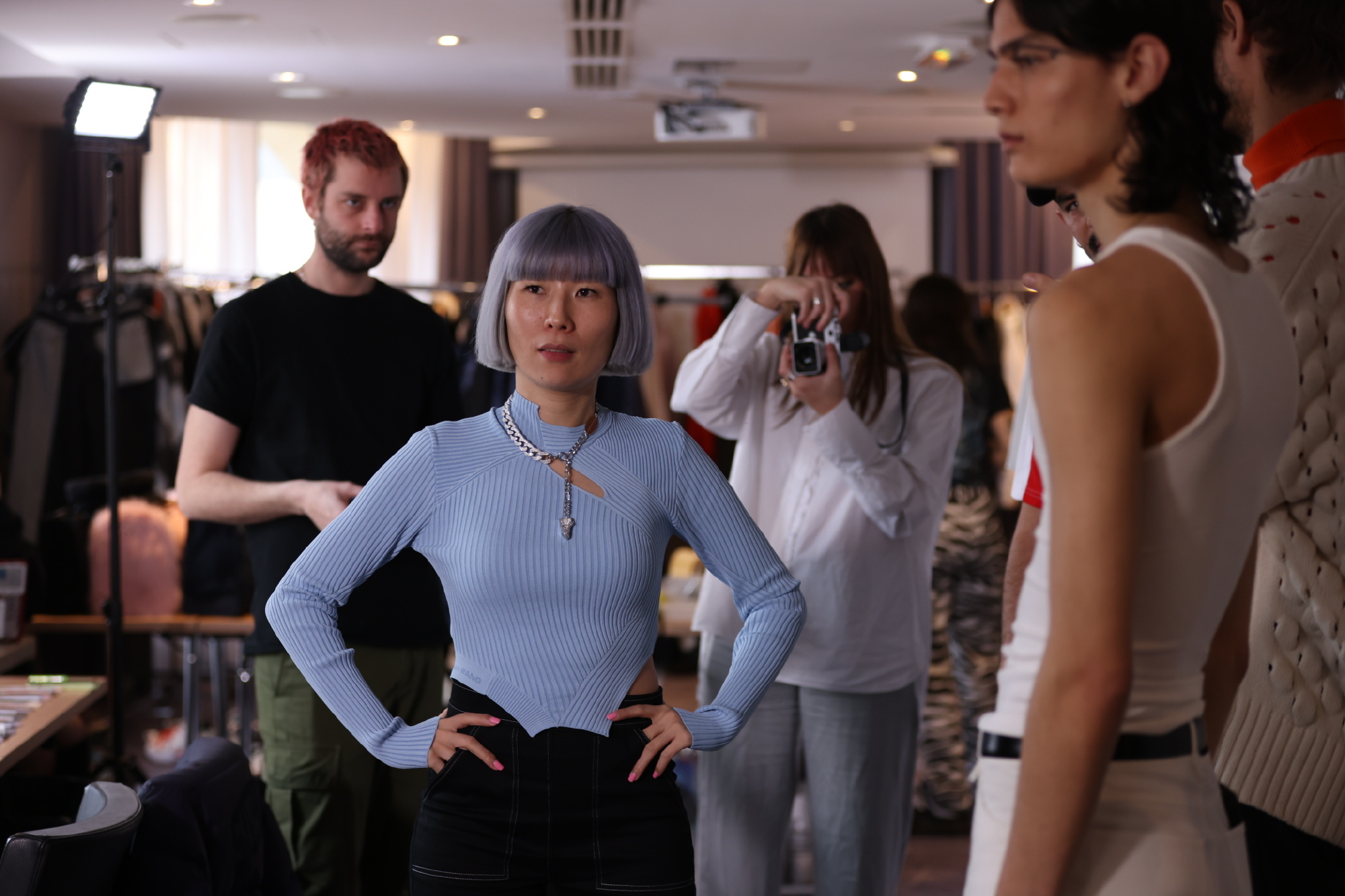 03 Feb

THREE "DUALITY" CREATIVE EXPRESSIONS EXPLORED BY CHINESE DESIGNERS DURING PARIS FW23 MENSWEAR FASHION WEEK

After three years of strict Covid control in China, the FW23 Menswear Paris fashion week has finally witnessed an official return of Chinese fashion insiders and influencers. Brands such as Fengchen Wang, Sankuanz, Sean Suen, Ximon Lee, and Ziggy Chen were featured on the Men FW23 Paris official calendar.

China's zero-Covid policy and the severe lockdowns last year have strongly influenced the local fashion industry. Indeed, growing up in China in an era of strong societal changes and as well as having witness a rapid growth to, today, being challenged with an uncertain future economy, Chinese young designers are boldly expressing themselves and are infusing their reflection of the time and new realities into their creation.

In their creation and their design codes, we can observe a complexity of contrasts and some multi-dimensional expressions. "Duality" – has been commonly seen through the different collections presented by Chinese brands, indicating a mix of hope and disappointment, joy and misery, past and future…

We see the juxtaposition and co-existence of the two opposite worlds that inspired these Chinese fashion talents.

If we take a deeper look at the "duality", below are three different notions observed behind it, presented in a very creative, personal, and inspirational way

1/ A "DUAL REALITY" PROJECTION: FROM DYSTOPIA TO RECONNECTION

A reflection of the reality and projection of societal thoughts are subtly communicated through the presentations. We see a very strong dystopian vision intertwined with designers' personal aesthetics. For example, themed as "CHAPTER 3 LA VEUVE NOIRE", Sankuanz's AW23 fashion show was set in a parking garage with the models striding through the space with bleak makeup on their faces. Inspired by the "cold-blood women killer" image, the collection delves into the relationship between the victim and the executioner, and the obsession of danger and violence, depicting a scene of apocalypse.
Photos: @Sankuanz
Chinese designer Ximon Lee also project his perception of the current world onto his designs. The collection got inspiration from the heroine from "Nausicaä of the Valley of the Wind" – a 1984 Japanese post-apocalyptic anime film. It depicts a contemporary fighter with resilient and defensive character with gender neutrality.
Photos: @Ximon Lee
On the opposite, Feng Chen Wang's FW23 runway shares a much more positive vision of the world. Combining Chinese traditional knots (a symbol of connection between people) and the "Hundred Families Robe" tradition from her hometown, the designer wants to address the sense of community and reunion. As she said, "In a world full of fragility and isolation, we want to celebrate the power of reunion of individuals, cultures and communities".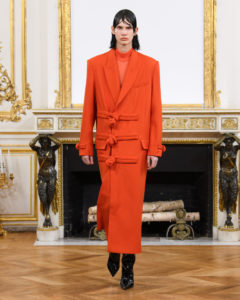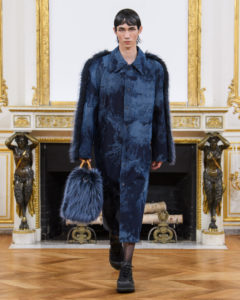 Photos: @FengChenWangStudio
2/ A NATURAL ESCAPE THROUGH A DUALITY OF TIME
Longing for nature is always a recurring topic in Chinese traditional culture and art as well as also one of main source of inspiration for Chinese fashion designers.
This season, we see a further exploration of naturality and a deep focus on natural fabrics. Named as "Viglumsy" – a combination of "vigorous" and "clumsiness", Ziggy Chen's FW23 collection is a journey through old and clumsy objects. The designer seeks inspiration from the obsolete life objects such as old furniture and clothes and tries to find a link between the past and future. By using his favorite fabric – linen, the Ziggy Chen tries to restore the original and natural beauty of the material, connecting to the past through the teared-up, fragmented patterns and folds details. As the designer said, the collection wants to "connect past and future in an eternal becoming".
The natural duality of Ziggy Chen's was well transmitted during the show presentation. The collection was showcased into a space surrounded by dappled and concrete walls but with warm natural lights penetrating from the roof, reminiscent of a cold reality filled with a seam of hope.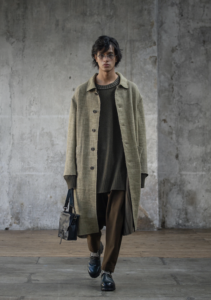 Photos: @Ziggy Chen
3/ A SEEN & UNSEEN DUAL EXPRESSION OF DESIRE
Although inner desire and sexual expression has mainly been regarded as taboo and vulgarity in China, more and more Chinese young fashion designers choose to challenge the traditional social norms and express themselves in an edgy way. The emergent Paris-based fashion brand TranseParis, founded in 2020 by Chinese designer Songan Gu, is one of the pioneers daring to speak out the social taboo through his creative designs.
The brand has been dedicated to decoding the notion of gender fluidity and inclusivity and to speak directly for and to the LGBTQ+ community. In this season's, the brand held a show in the center of Le Marais, presenting its latest collection [Wrenched] in an immersive and intimate mini theatre scenography. Decorated by white candles and huge mirrors, the show is a bold intermix of outwear and lingerie, an exploration of unseen silhouettes and materials, and a contradiction of cuteness and darkness. Chinese silk, lace and velvet are the three main fabrics featured in this collection, further creating another duality of external fragility and internal strength.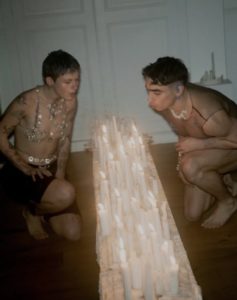 Photos: @TranseParis
Key Takeways:
As the first major international fashion event of this past 3 years for Chinese designers , Paris FW 2023 Menswear Fashion Week has seen an official return of Chinese fashion talents and insiders.
Chinese fashion designers are not only taking notes from the traditional Chinese fabric and craftsmanship, but also are breaking the boundaries of gender stereotypes and bringing more gender-neutral fashion.
No matter from an apocalypse vision to a more positive, natural and personal expression, we have seen a collective duality reflection from those Chinese fashion designers on the current world and their contemplation of the post-Covid situation in the Chinese society.
Contact us to learn more about the latest fashion trends in China