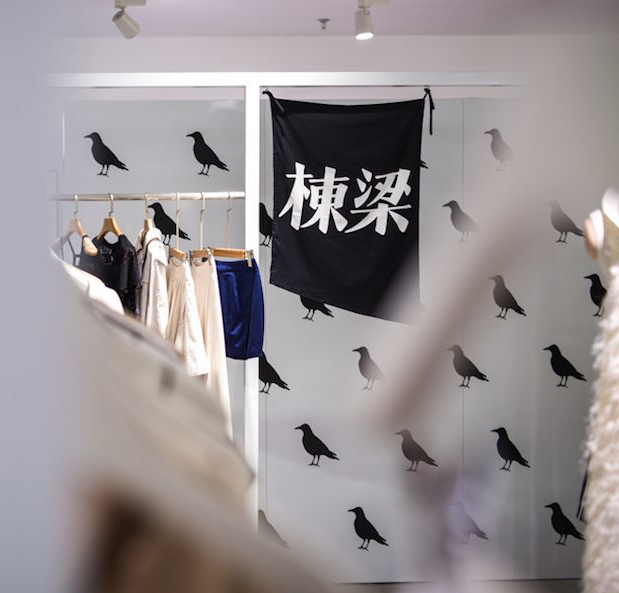 22 Jun

Dongliang, the voice of contemporary Chinese fashion

Eight years ago, Chinese designers or Shanghai Fashion Week was not catching the attention and was mainly "ignored" by the fashion international and local crowd.

Today things have  changed:  showrooms are exploding in China especially during the Shanghai Fashion Week. Shanghai has become the new hot destination for fashion buyers, ranking just after Paris, New York, Milan and London.

What's more, in 2016, Business of Fashion counts 27 Chinese on the 500 people most affluent in the fashion industry : <The People Shaping the Global Fashion Industry>. This data showcase that there is indeed a real mutation and a strong international elevation of the creative Chinese fashion scene.
Dongliang founders: Tasha Liu, Charles Wang & Lang Nan (Photo: Business of Fashion)
Three avant-garde Chinese Tasha Liu, Charles Wang and Lang Nan, have widely contributed to push China creative fashion industry, deciding to move forward and to contribute in the development of local designers.
In 2009, they created the first store of Dongliang in Beijing. Today, the first group of local designers curated by Dongliang like Uma Wang and Sankuanz are already shining internationally. Dongliang continues to look for China's future talents with the aim of presenting them to the world.


The one and only objective of Dongliang is to promote and sell China's up-and-coming designers. They have developed numerous events and activations to keep this purpose bloom : they had firstly launched the Dongliang One Day during the Shanghai Fashion Week. The event was a one day program mixing exhibitions and shows showcasing exclusively the brands selected by Dongliang, this was the precursor of Labelhood.  
Labelhood is now a developed platform and a showroom supporting the Chinese emerging designers with the purpose of presenting them to the western market.
Dongliang has brought several designers to participate to the London Fashion Week in 2013 and to a  pop-up store in collaboration with the concept store H.Lorenzo in L.A.

Dongliang always tries to support at its best the local designers. Last year, in order to meet more potential clients in the second-tier cities of China, Dongliang opened a shop-in-shop in the concept store HUG in Chengdu, which is an emerging fashion market in China. This year, a new boutique of Dongliang had recently opened in Beijing – Paint by Dongliang, where we can find smaller and younger brands than in the original store of Dongliang.
Apart from fashion designers, Dongliang also collaborate a lot with Chinese emerging artists. Their stores become exhibition spaces where Artists can display  their works and be known by numerous people.
Featured photo credit: Q Daily
Dongliang adresses:
Shanghai: No.184, Fumin Road, Jing'An District, Shanghai
Beijing: No.102, 2-building, central park, No.6, Chaowai Street, Chaoyang district, Beijing
Paint by Dongliang: No.84, Guozijian Street, Dongcheng district, Beijing